On Friday, I saw Cindy Sheehan protesting in Union Square. You can read more about the protest right here. At the protest, there were utter moonbats, screaming that Bush and Cheney will be impeached, and Sheehan will be the next president of the US. Yes, you read that right. I hope I did not cause you to spit out your coffee! The protest also drew many 9/11 "troofers."
I was with a friend from Israel on Friday, and my friend asked me "Who are they?" I answered: "Don't worry about that. It's just a bunch of antisemites (they believe we fight only for Israel and Israel was behind 9/11). They prove America is a great and free nation, as they are saying the worst sorts of things, that America is behind 9/11, and yet do not face any sort of punishment."
Many people claim that mocking Cindy Sheehan is in poor taste, as this woman lost her son, and should be shown respect. I have the following to say to them:
Cindy Sheehan does not respect her son, and in fact she should be ashamed of the mockery of a human being she has become.
Her son fought and died for this country, and in response, she meets with those such as Hugo Chavez, who seek to destroy America. Her son is turning in his grave, at the way his mother is dishonoring his memory.
The fact that she is a mother and is so dishonoring her son is a double insult; it makes her the worst sort of a person out there. She is the sort of person who lets her son's grave go without a headstone, so she can use the money allocated for the headstone to protest against the country he fought and died for. She does this all while pretending to be acting in his memory, when really she was a communist and anti-American activist prior to her son going off to Iraq.
Remember these words next time someone castigates you for reeming into Sheehan. The fact that her son died in Iraq is exactly the reason that it is so deplorable that she does what she does. She is actively defaming her son's name, she knows she is defaming his name, and she does not care.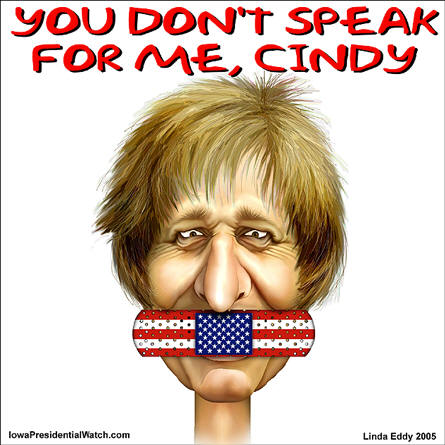 Read more about Sheehan right here.